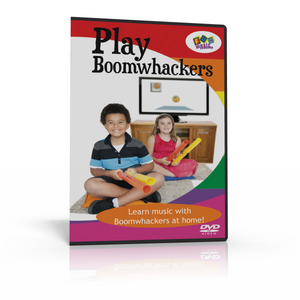 Get the full digital version of the popular Play Boomwhackers® DVD, for use on any device!
Learn to play Boomwhackers® at home! Video designed to be used by children at home or at school with a set of 8-Note C Major Diatonic Boomwhackers (Item #BWDG). Led by experienced music educator, Janice Tuck. This video is now offered as a digital download, accessible via a unique QR code sent to you after purchasing.
Children can now learn Boomwhackers® at home! In this fun and educational video, experienced music educator Janice Tuck gently introduces children to music, just while they are having fun! Boomwhacker® musical tubes have been around for many years, and they are very popular in school music classrooms. However, most people think that you have to play one tube at a time, and put together a melody, by combining your one or two notes with a few others played by your friends.
Of course there is nothing wrong with this approach, but the approach in this video is different. The idea here is that children get to play a whole set of Boomwhackers®, and in this video, children sit on the floor with a complete set in front of them, change tubes throughout the songs, and play different melodies and rhythms with them. They don't need to read music, as they simply follow the animations and play when the colorful 'Beatz' characters bounce on the 'Play Mat'. Of course, we don't start with all eight Boomwhackers® at once - they gently go through a process of building up from one, to two, then four, six, and eight Boomwhackers® all in the same song. Children will learn important musical concepts such as pitch, rhythm and harmony, all while they are just having fun and playing in time with the animated characters.
Features:
Perfect for one or many players
You don't need to read music to have fun!
Colorful "Beatz" characters are easy to follow
Learn important musical concepts such as pitch, rhythm, and harmony while having fun!
Digital video format accessible via unique QR code
Boomwhackers® 8-Note C Major Diatonic Set

 

(Item #BWDG) sold separately
See our Boomwhackers® Gift Set (Item #BWGS) to purchase the video with a set of Boomwhackers

®

Due to the digital nature of this content, it is not eligible for returns